Would you like to nominate one of our our staff members for superior customer service? Click HERE
Before Need Planning – one of the most thoughtful, significant and financially advantageous acts one can undertake.
Four New Works of Art
We're proud to unveil four new two-panel (diptych) scenes of California landscapes that perfectly complement the four existing windows, employing techniques that were impossible back at the turn of the 20th century. For a very limited number of families wishing to honor loved ones most uniquely, a custom memorial plaque can be set next to each 2-part diptych.
The Windows Are A Rare Opportunity
Presenting the new Windows, and a unique opportunity to honor your loved one with a bronze memorial plaque permanently affixed below one of the four 2-part diptychs. Click on the links below to inquire about memorial sponsorship of one of these amazing works of art.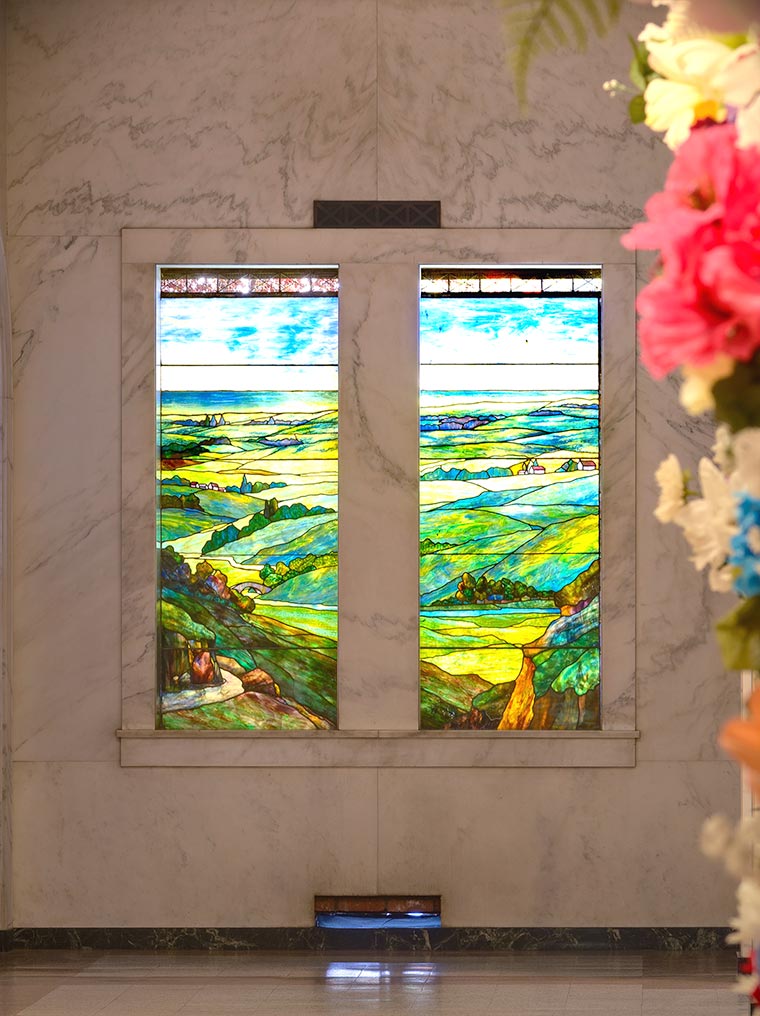 Back in 1914
Los Angeles was still a small town and Inglewood Park Cemetery was only nine years old. Even then, we had a vision to create a place of magnificent beauty. That's why we commissioned the acclaimed Judson Studio to create a series of glorious windows that would illuminate our new Inglewood Mausoleum.
Founded in 1897, Judson Studio had already earned a world-wide reputation for their artistry and craftsmanship. They in turn reached out to the accomplished painters of the California Art Club (founded 1909) to borrow their best landscape paintings and capture them in stained glass.
For 106 years, these magnificent windows have been enchanting visitors, helping make the Inglewood Mausoleum an architectural landmark.
But stained glass is fragile and over time, four sets of windows were lost. So, we set out to do something extraordinary: create new stained glass windows in the tradition and spirt of the original 1914 series.
As we did a century before, we reached out to the artisans at Judson Studios, today operated by David Judson, the great-great-grandson of the firm's founder. And through them, we contacted the original California Art Club, still going strong, to find contemporary paintings to inspire our new windows.
Now, 106 years after the original windows were set in place, we're proud to unveil four new two-panel scenes of California landscapes that perfectly complement the four existing windows, employing techniques that were impossible back at the turn of the 20th century.
Come experience their magnificence for yourself.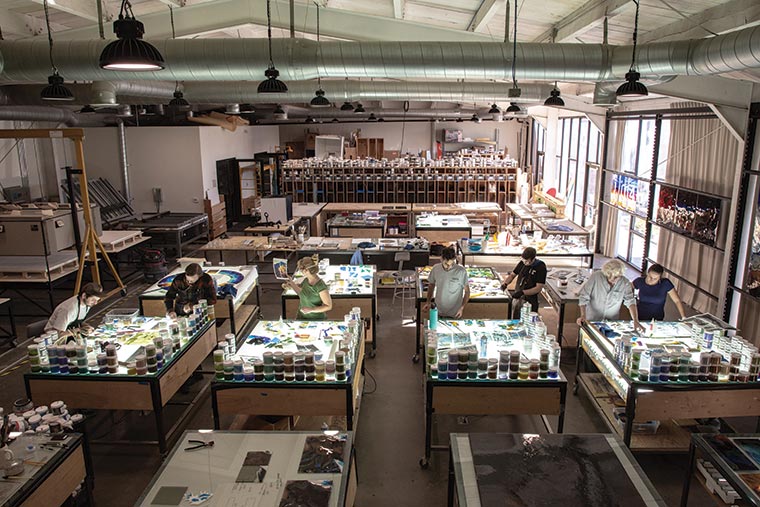 Turning History Into Magic
Inglewood Mausoleum's original opalescent windows, created in 1914, were crafted in the style of the period known as "American Art Glass," made famous by the brand Tiffany. The concept behind the new series was to honor the originals while utilizing the latest in glassmaking technologies.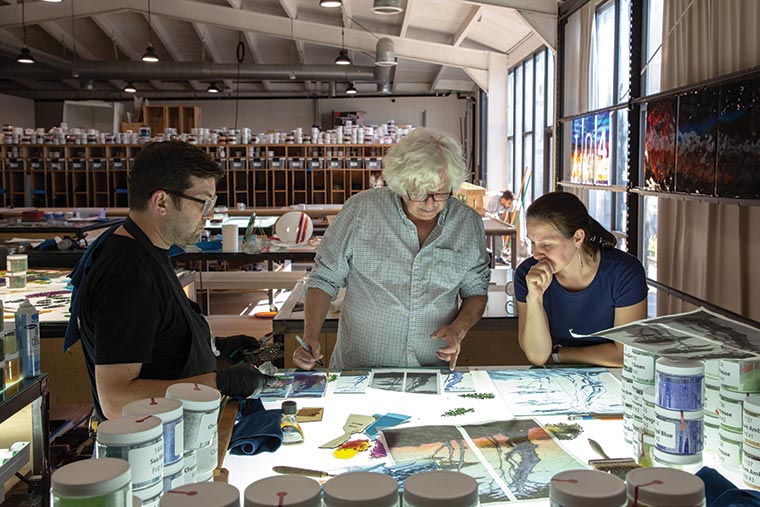 Narcissus Quagliatta
To do that, David Judson brought in Narcissus Quagliatta, one of the most significant artists working with glass today, to guide Judson's own artists as they interpreted four new landscapes painted by members of the California Art Club and converted them into windows executed in fused glass.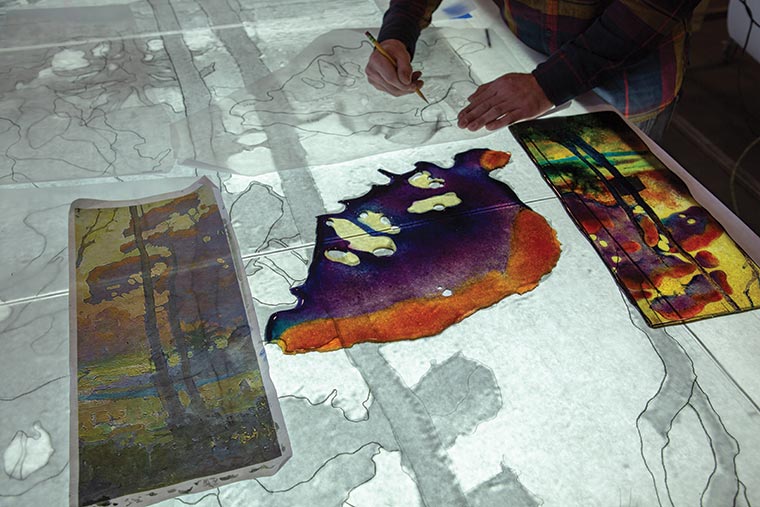 Fused Glass
Developed in the late 1990s, fused glass is a technique very few studios know how to use. Unlike traditional stained glass, which is essentially mosaics of individual pieces of colored glass, fused glass can combine an almost unlimited set of colors in a single space, creating brilliant new never-before-achieved effects. The results, as you can see, are remarkable.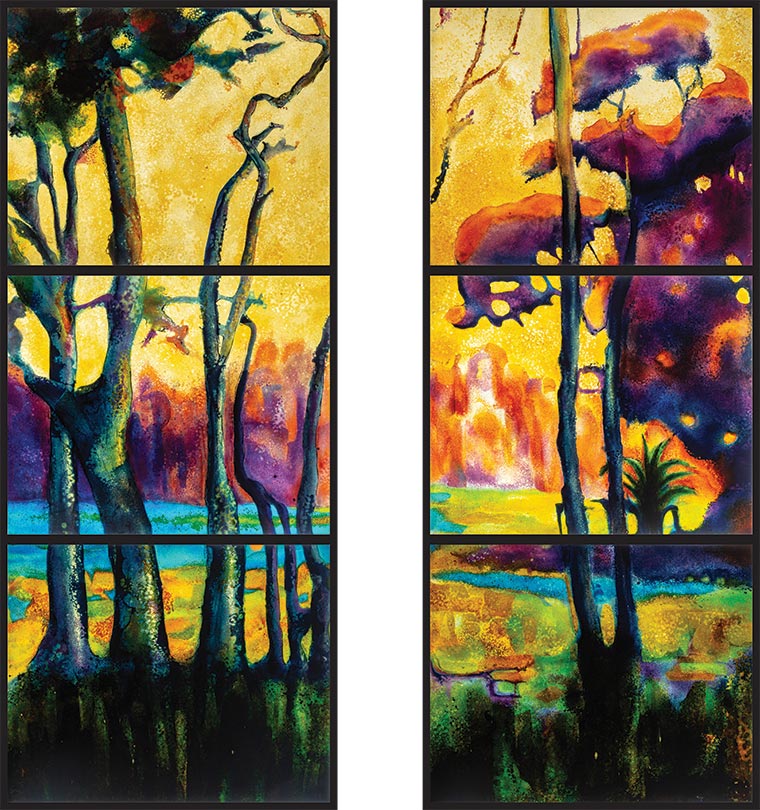 SILHOUETTES AT BATIQUITOS LAGOON, CARLSBAD, CALIFORNIA
By Peter Adams
Contemporary American artist Peter Adams was born in Los Angeles on August 27, 1950. He received his training at Art Center College of Design, Otis Art Institute, Instituto de Bellas Artes, San Miguel de Allende, and at the Lukits Academy of Fine Arts in Los Angeles. Since 1993 Adams has served as president of the historic California Art Club.
Adams' image depicts Batiquitos Lagoon. "I have painted there for over 50 years and it is one of my favorite places to paint because of its many stands of eucalyptus contrasted with the pristine lagoon and the Pacific Ocean."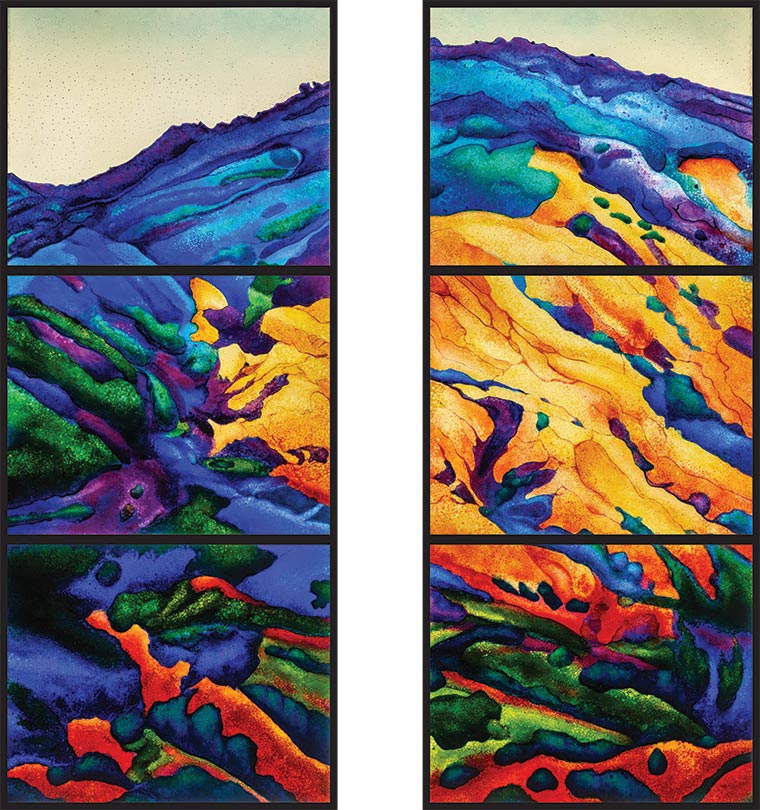 TWISTING MOUNTAIN
By Robin Purcell
Born in 1956, Robin earned a BFA in Graphic Design from the University of Connecticut. Over a decade ago, Robin relocated to Northern California where she began interpreting landscapes as if painting floral images, pushing neutral colors towards vibrancy, and simplifying shapes.
"Twisting Mountain is one of my favorite interpretations of Mt. Diablo. I purposely left off the summit building and roads and painted as it appeared to the first settlers in the East Bay."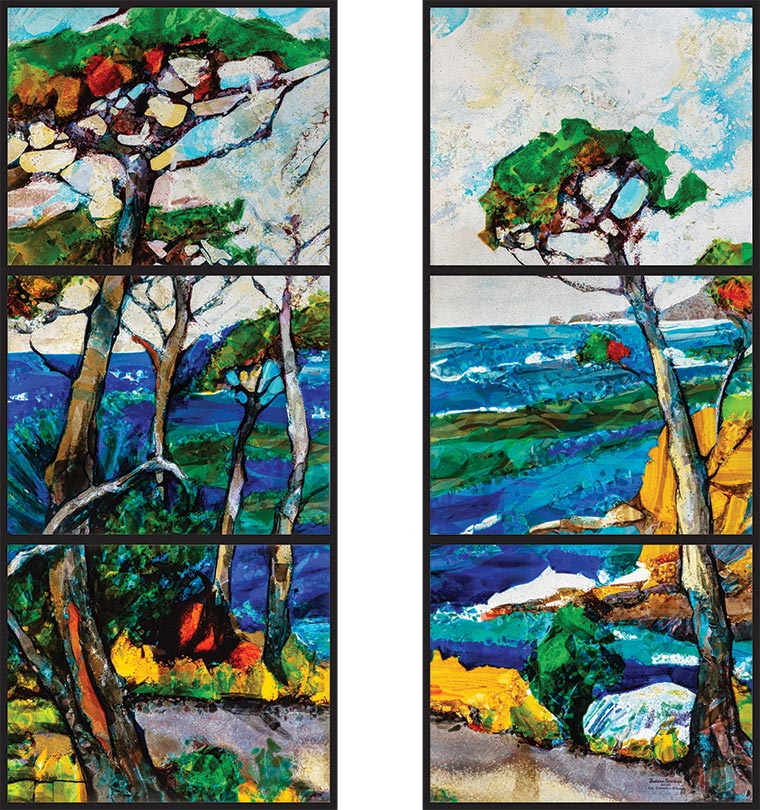 Kelp Beds
By Karl Dempwolf
Born in Germany, immigrating to the U.S. at the age of 14, Karl Dempwolf received his BA from California State University Northridge, continuing his art education at Art Center College of Design and USC. His works have been featured in significant museum exhibitions and included in permanent collections of major corporations, 
"I never cease to be inspired and humbled by the eternal beauty of Point Lobos, where this image was created."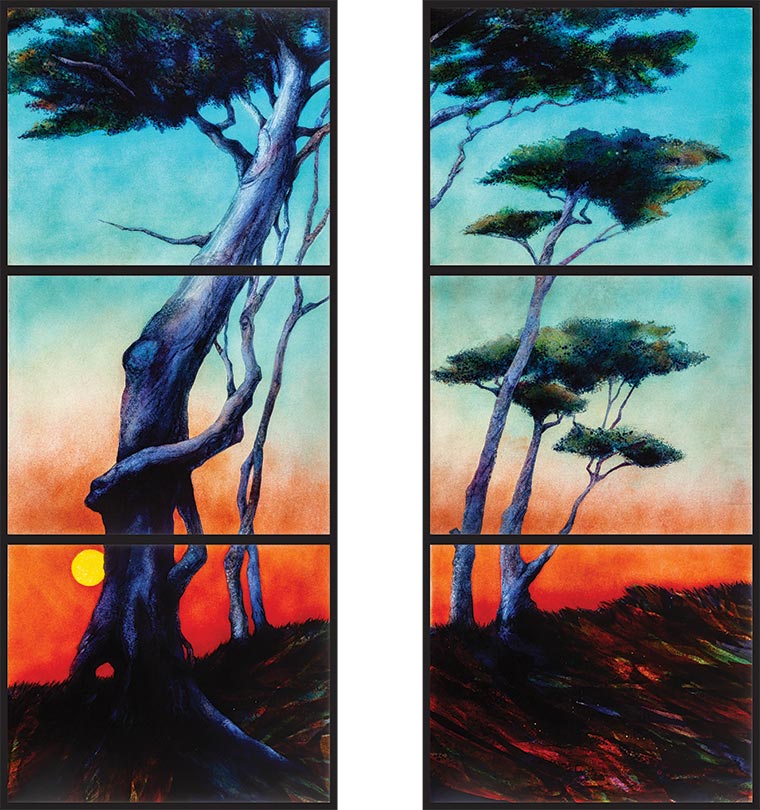 Evening Rhythm
By Steve Curry 
Steve Curry was born into a family of artists in 1957 in Milbrae, Northern California and earned arts degrees from the College of Marin and Cal State Long Beach. A dedicated plein air painter, his favorite time to paint is the end of the day "when the shadows are long, when the limbs light up, when the sycamores are whiter."
"I wanted to capture the energy of the trees and that fleeting moment when the low sun lights up the branches," explains Curry. "My ultimate goal is for the finished work to be as beautiful as possible and bring the viewer joy."
Request Info